---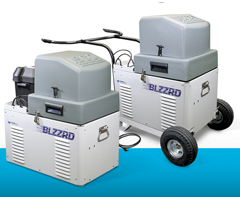 BLZZRD™ Portable Refrigerated Wastewater Sampler
AC or DC Battery Powered Cooling with State -of-the-Art Data Logging
​​​BLZZRD is a portable refrigerated sampler with active cooling from either AC or battery power. Its controller offers all advanced controls, interfaces, data logging, and remote communication features. Based on Teledyne ISCO's industry-leading 6712 controller, you get all the advanced control, data logging, and communication features of the 6712, with cooling from either AC or battery power. Bottle​ options include 5- and 2.5 gallon composites as well as 4 x 1-gallon, 4 x 1.8 L, and 14 x 950 ml sequentials. A 12V deep-cycle battery delivers 48 hours—or more—of refrigeration. The power-saving cooling system remains on standby until the first sample is drawn, and only then switches on to preserve the collected samples for pickup. Available routines include: pause-and-resume for intermittentdischarge flow monitoring; sampler pacing by time, non-uniform time, flow or external event; and random interval sample collection.
Applications:
Stormwater Runoff Comp​liance
TMDL and Watershed monitoring
Enforcement Monitoring
Anywhere you need advan​ced sampling capability combined with data logging and communications for flow, rainfall, and water quality parameters – plus reliable, on-demand cooling.